About Bettina
Bettina is a Partner and specialises in employment and partnership law. She has long-standing experience in providing commercial and strategic advice to a range of UK and multinational businesses and professional service firms, as well as senior executives and partners.
In Chambers & Partners 2019 and 2018 she is individually ranked in Band Two in the 'Partnerships – Contentious' category. She is described as "a specialist in contentious partnership matters" who is "approachable, highly skilled and completely dependable" as well as a "wonderful drafter and negotiator".
Bettina is recommended in Legal 500 2018 – Partnership and described as "excellent" with an interest in cross-border partnership issues.
Bettina is named in International Who's Who Legal 2018: Labour & Employment and is described as "at the top of her game; an excellent employment lawyer who is very precise and to the point".
Bettina has a wealth of experience in providing contentious partnership law advice to professional service firms, with a particular focus on advising law firms. She also advises individual partners and LLP members. Bettina has extensive experience in advising on discrimination and whistleblowing complaints, misconduct investigations, restrictive covenants and team moves and negotiating partner exits both in the legal and financial services sectors.
Bettina also provides contentious and non-contentious employment law advice to multinational employer clients. She specialises in providing day-to-day UK employment law advice to multinational employer clients on risk and strategic HR issues relating to their UK workforce, particularly in relation to internal investigations, disciplinary and grievance procedures, whistleblowing and discrimination claims and exits as well as restructuring and redundancy exercises. She also regularly advises senior executives and founders in relations to their potential legal claims, negotiated departures and contractual terms.
Bettina is bilingual in English and German and acts for many German multinationals with UK operations, and German senior executives (advising them in German).
Professional Memberships
Employment Lawyers' Association
European Employment Lawyers' Association
Association of Partnership Practitioners
Member of the German British Chamber of Commerce
Law Society of England and Wales
Recent Experience
Employment
Advising a German headquartered multinational on the handling of a grievance process brought by their UK Managing Director. Providing subsequent tactical and legal advice in relation to suspected misuse of Company monies by the MD and the related independent investigation and disciplinary process and appeal. By ensuring the appropriate procedures were followed, the client was able to avoid a claim for a year's notice pay and no settlement monies were payable. Advising the client on a subsequent restructure and site closure and related redundancy process, which again resulted in no claims being brought against the Company
Acting for the London office of a US law firm in relation to a race discrimination claim brought by an unsuccessful job applicant, and providing legal and tactical advice on the grievance process and ongoing sickness absence of an underperforming support staff member, leading to a negotiated agreed exit on terms favourable to the firm
Advising the trustees of a private hospital on the grievance and alleged whistleblowing concerns raised by their Chief Executive, instructing and liaising with an independent investigator and proving legal and tactical advice to secure a favourable agreed exit
Acting for a longstanding financial services client headquartered in Germany in relation to the redundancy of one senior team member and ongoing employment law advice
Partnership
Advising a UK law firm client on a new partner hire, in the context of an overall team move and a threatened injunction by the former firm
Advising a UK law firm on the legal and tactical issues in relation to an underperforming female equity partner with ongoing health concerns who raised a grievance against a senior colleague
Advising a cross border global fund placement agent in respect of the threatened High Court and whistleblowing claim of a partner on whom a no cause expulsion notice had been served
Advising an equity partner of a magic circle law firm facing an independently led investigation process for alleged serious misconduct involving a former junior colleague with potential criminal liabilities. Also supporting the partner through the process and assisting with position statements and strategic advice, ultimately leading to a positive outcome for the partner who was kept on by the firm
Pro bono
Bettina provides longstanding ongoing pro-bono employment law advice and support to domestic violence charity, Refuge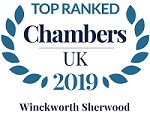 Career Experience
2018 to present: Partner, Winckworth Sherwood
2006 to 2018: Partner, CM Murray LLP
2004 to 2006: Solicitor, Hammonds
1999 to 2004: Solicitor, Fox Williams