About Susan
Susan advises on all aspects of the employment relationship, as well as the increasingly common flexible variations on that traditional model. Susan also acts regularly in partnership disagreements, boardroom difficulties and shareholder disputes. She specialises in the resolution of disputes arising in the workplace, often with compliance, safeguarding and regulatory angles. Sue has a particular expertise in Church matters, greatly strengthened by her close involvement in the first two public hearings in the Anglican Church investigation within the Independent Inquiry into Child Sexual Abuse, in which she supported a number of senior individuals whose past conduct was subjected to the most detailed scrutiny. Sue regularly advises in clergy discipline matters.  She has advised dioceses and parishes on issues ranging from discrimination to redundancy, allegations of abuse and disciplinary action. Sue has advised one particular diocese over several years, on a wide range of employment issues. These matters have included race, religion, disability and sexual orientation discrimination claims, unfair dismissal, redundancy, part-time working issues, disciplinary matters arising out of misconduct, and the legal position of interns, particularly in relation to National Minimum Wage.
Susan's other employer clients sit within the professional services, education and housing sectors. These will often seek support throughout the investigation of disciplinary matters, particularly where reputational risk is identified and strategic input needed.  In addition to advising on queries (and occasionally litigation) on the recruitment process, Sue assists clients from start-up level in ensuring they have the right framework of policies and contracts in place, and builds long-term relationships with her clients to ensure support is in place whenever difficulties arise. Susan is described by Chambers 2020 as being "extraordinarily hard-working, exceptionally committed to clients, and very astute." Widely praised by clients for her supportive nature and extensive employment law knowledge, Susan's work includes assisting senior executives with sensitive exit negotiations. Susan is described by Chambers 2019 as being "very user-friendly, responsive, commercial and a pleasure to work with."
Widely praised by clients for her supportive nature and extensive employment law knowledge, Susan's work includes assisting senior executives with sensitive exit negotiations. Sources describe Susan Kelly as 'thorough, professional and strategic,' while also praising her client care skills" (Chambers 2018).
Clients praise the "outstanding" Susan Kelly (Legal 500 2016) and benefit from her vast range and depth of experience across many areas of litigation. She deploys her extensive experience of dispute resolution in acting for both employers and employees, and pursues her clients' interests vigorously and commercially, whether by negotiation, mediation, arbitration or litigation in the Employment Tribunal or High Court.
Recent Experience
Resisting a claim against a Diocesan Bishop for race discrimination, which was unsuccessfully pursued in the Employment Tribunal, High Court and Court of Appeal.
Advising a diocese with safeguarding concerns in relation to the proposed appointment of a parish organist. Later advising a parish priest in another diocese in relation to a disciplinary procedure for the same organist, at the end of which he was dismissed for gross misconduct for sexual harassment.
Acting for the Senior Finance Bursar of an eminent higher educational institution who had suffered from prolonged bullying and then been accused of gross misconduct.
Resisting a wide-ranging discrimination claim by an employee of a professional services firm.
Representing a senior executive in a pharmaceutical start-up whose significant equity stake was at risk, due to unlawful attempts to oust her.
Professional Memberships
Law Society of England and Wales
Employment Lawyers Association
Association of Partnership Practitioners
Sue Kelly discusses zero hour contracts on BBC News 24: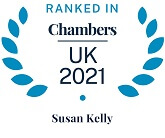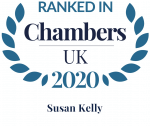 Career Experience
2010 to date: Partner, Winckworth Sherwood
1988 to 2010: Assistant Solicitor, Dawsons
1986 to 1987: Assistant Solicitor, Daybells
1984 to 1986: Trainee, Daybells