About Mark
Mark heads our Lease Extension and Enfranchisement team. Providing specialist advice to flat owners and landlords in London and the South East on a wide range of property matters, he has particular expertise in lease extension, freehold enfranchisement for flats and houses held on leases, collective enfranchisement, conveyancing (both commercial and residential), right to manage and right of first refusal.
Our lease extension team help both landlords and tenants find the best way to achieve their objectives, providing commercial advice in terms that reflect our knowledge of leasehold ownership.
Recent Experience
PLC estate landlord's with regard to enfranchisement and lease extension claims they receive and make
Groups of flat owners in the exercise of their collective right to acquire the freehold interest of their building both by enfranchising pursuant to the LRHUD Act 1993 (as amended) and pursuant to the right of first refusal created by the L&T Act 1987
Groups of flat owners and landlords in the exercise of the right to manage
SME 's regarding the assignment of commercial leases
Developers in their sales and acquisitions
Individuals in their sale and purchase of residential property, in particular high net worth individuals
Professional Memberships
Law Society of England and Wales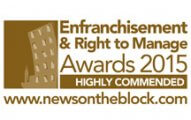 Career Experience
2008 to present: Partner, Winckworth Sherwood
2001 to 2008: Partner, Ashley Wilson
1999 to 2001: Solicitor, Ashley Wilson
1996 to 1999: Articled clerk and solicitor, Bowling & Co
I have worked with Mark for nearly a decade now. He helped me buy my house in Notting Hill and then conducted the conveyancing when it was time to sell. He is very well organized, responsive and a pleasure to work with. […he has comprehensive knowledge of the relevant legislation and is always up to date on the latest guidance and regulatory changes in residential real estate and lettings. I would whole-heartedly recommend Mark to anyone considering buying or selling a property in London.
Client of Mark Vinall
I feel justified in [hiring Mark] because this purchase, in addition to having the usual complications of any purchase, had the added attraction of occurring during the pandemic, which meant a deviation or two from the normal routine.  Nevertheless, Mark had all the remedies ready when any problems arose.  For example, just a few days before exchanging, the government declared the one month lockdown, which meant that completion would happen during the lockdown.  I felt that even if legally I could complete the purchase and move, I would have difficulty organising the move (from Manchester to London).  Mark then drew up a plan to cover that contingency and also handle the possibility of the lockdown being extended.  In the end, after negotiating amongst all parties, we agreed on a completion date of 9 Dec, and that has all gone successfully.
Client of Mark Vinall
Always easy to get hold of by phone or email. I would definitely recommend Mark's services to future clients who want a solicitor to guide them through the conveyancing process, especially as Mark can explain the legal jargon in a way that is easy to understand.
Client of Mark Vinall
"He is a delight to work with and I feel that any clients I recommend to him are being passed to an extremely safe pair of hands."
A client of Mark Vinall
"Such a relief to work with conveyancer that actually knows what he is doing!"
A client of Mark Vinall
"I was absolutely confident in their ability to handle the proceedings in what turned out to be quite a drawn out and difficult process. Mark was always contactable and offered excellent advice to all my concerns. I would wholeheartedly recommend Mark to anyone who is thinking about extending their lease or dealing with any type of property law."
A client of Mark Vinall
"At last a conveyancer with whom I would happily work with again!…Mark calmly helped us navigate to practical commercial solutions. He is personable and efficient. His transparency on fees is also appreciated. "
A client of Mark Vinall
"It is always a great benefit to have a patient and reassuring presence on one's side, and for that we are very grateful to you and your colleagues."
A client of Mark Vinall
"Mark is incredibly efficient, works well under pressure and highly experienced in all aspects of property law and familiar with all kinds of complicated clauses found in some of the older estate leases."
A client of Mark Vinall
"Mark is a great champion for his clients and is robust in his support of their needs when dealing with other solicitors. Mark was bale to successfully secure me a very quick exchange and completion under considerable pressure and with lots of challenges along the way. I recommend Mark highly."
A client of Mark Vinall
"Mark Vinall worked for me as a solicitor, when I bought a house and sold one flat. He advised me perfectly, was very efficient and quick in dealing with questions and problems."
A client of Mark Vinall