About Katie
Katie is a Partner in Winckworth Sherwood's Family Team, regularly advising men and women from all backgrounds on the law relating to divorce, relationship breakdown, child related issues, pre-nuptial or cohabitation agreements. Her clients include high net worth individuals, professionals in the city and entrepreneurs, but also include the financially vulnerable and those who have dedicated their lives to raising children and supporting the family unit.
With such a diverse client base, Katie's strength lies in finding the right fit and approach for the individual depending on the complexity and/or sensitivity of the matter, and the assets involved. She has been described by The Legal 500 as "tough and pragmatic" whilst at the same time attracting praise for her "wonderful personal touch with clients".
Katie is a member of Resolution and is a qualified mediator. She believes in working with clients to find a fair, sensible and pragmatic solution to all the issues they face following a relationship breakdown, and to ensure the whole family can move forward as soon as possible. Katie does not lose sight of the fact that in cases where there are children, divorce will dissolve a marriage but not the broader ties of family. When a case does require litigation in the Courts Katie is fiercely protective of her clients, and is willing to fight to ensure their best interests are protected.
Client Testimonials
"Thank you from the bottom of my heart for all your time, devotion and care with everything over the past few years."
Mr M
"Katie is not only exceptionally professional but incredibly empathetic. Whenever I speak to Katie, I know I have her undivided attention. I trust Katie implicitly and have recommended her to several others, I couldn't praise her more for the service she has provided me with."
Mrs M
"Katie's service was second to none – she was pragmatic and understanding and her help was invaluable. Without her and her team I could never have secured the same outcome. She was always on hand when I needed advice and fought extremely hard on my behalf to ensure financial security for myself and my children. I will forever be grateful to Katie and cannot thank her enough."
Mrs S

Professional Memberships
Law Society of England and Wales
Resolution
Family Mediation Council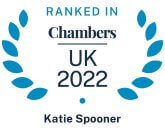 Career Experience
2017 to present: Partner and Mediator, Winckworth Sherwood
2014 to 2017: Senior Associate and Mediator, Winckworth Sherwood
2013 to 2014: Associate, Child & Child
2009 to 2012: Assistant Solicitor, Mischon de Reya
2007 to 2009: Assistant Solicitor, TWM Solicitors
2005 to 2007: Trainee Solicitor, TWM Solicitors
'I like Katie Spooner a lot, she is bright and efficient.'
Legal 500 UK
"She is an outstanding solicitor. I felt in such good hands with her." "She provides excellent service and advice."
Chambers 2022
"A close-working team with deep specialisms, particularly in finance and private law children matters. Katie Spooner is great – down to earth, straightforward and ever the tactician when it comes to running a case. She holds her own with ease in negotiations"
Legal 500 2021
'Katie Spooner is now at the helm and steering the ship with aplomb. She is one to watch – she is ambitious, hardworking and fights for her clients'
Legal 500 2021
Katie is described as 'tough and pragmatic'.
Legal 500
'Katie Spooner took a very sensible and rational approach, trying to find pragmatic solutions to resolve matters for our clients. She provided exceptional support and was calm, measured, candid, and tough in equal measure'
Legal 500 2021
"…during this time i've been thinking of the right words to say to you both.  The knowledge and care given was outstanding. I wouldn't hesitate to recommend you both in full confidence."
A client of the Family team
Katie attracts praise for her 'wonderful personal touch with clients'.
Legal 500, 2016
"Thanks again to you and all your team, for your help and support… You have all been extremely professional and supportive at all times. I'm so glad that this is finally resolved"
A client of Katie Spooner
"Real star of the future who is already widely known, she is conciliatory but not afraid to fight"
Legal 500, 2019
"Katie Spooner is.. a 'name to note'."
Legal 500 2020
'Katie Spooner is an excellent lawyer, with superb people skills, very much suited to being head of department. Under her watch the team is likely to go places'
Legal 500 2021
She's very responsive, articulate, professional and uses time efficiently.
Chambers 2021
'Katie Spooner is the sort of partner every law firm requires. Katie leads by example and inspires the best in her team. Katie is able to deliver the difficult advice clients need in order to run their case with care. Katie is also good at managing a client's costs by providing Partner's input only as required and requested and delegating where necessary. Katie is highly regarded by colleagues and clients alike'.
Legal 500 2022