About Colin
Colin has over 25 years experience of construction and engineering contracts. He is praised as someone with "a calm manner who is able to stand his ground in the face of adversity" in Chambers and Partners UK. On the disputes side he handles complex, high value litigation and arbitration, both in the UK and internationally (eg under the ICC, LCIA, AAA rules).
Examples of these matters are:
Obtaining a High Court injunction on behalf of a Swedish company to prevent early termination of the contract
A claim for defects under a recent hospital PFI contract
He is acknowledged in the directories as getting to the nub of the issues and finding solutions. He works with Winckworth Sherwood's Dispute Resolution Team on a very wide range of construction related disputes such as final account disputes, Bond calls, disputed letters of intent, VAT recovery. He uses mediation, adjudication, litigation and arbitration as suits each matter.
On the transactional side Colin provides the construction input to matters handled by Winckworth Sherwood's range of teams dedicated to serving the built environment, such as utilities, regeneration, environmental and planning.
Climate Change/Community Infrastructure
Colin has taken a leading role in the legal developments surrounding renewable energy and community infrastructure. He has advised on numerous District Heating Schemes involving innovative commercial arrangements; and on the recent regulatory developments and best practice. He chaired the UK Green Building Council's Task Force (jointly sponsored by the Zero Carbon Hub and the Green Building Council)  on standardising the legal frameworks for the development of Community Infrastructure Projects. This deals with single site developments through to city centre regeneration projects and stand alone renewable energy centres. Colin has handled numerous renewable generation projects including Waste to Energy, Solar PV and Wind.
Recent Experience
Construction Contracts:  Preparing the development Agreement and entire suite of contractor and consultant appointments for a major project to extend London Underground's Metropolitan Line
District Heating Scheme:  Preparing the suite of contracts for the creation and operation of an on-site Energy Services Company for the running of a District Heating Scheme at a 500 unit mixed use development in west London
International Dispute Resolution:  Advising on the enforcement of an arbitral award against an African state entity
Community Infrastructure: Preparing a suite of standardised contractual documents and advising on the regulatory and best practice requirements for District Heating and Cooling schemes on multiple developments
High Court:  pursuing claims arising from the re-development of a shopping centre in west London
Professional Memberships
Law Society in England and Wales
Society of Construction Law
Chartered Institute of Arbitrators
UK Green Building Council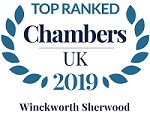 Career Experience
2011 to present: Partner, Winckworth Sherwood
1998 to 2011: Partner, Bird & Bird
1993 to 1998: Partner, Lane and Partners