What is the social housing sector's approach towards meeting environmental, social and governance targets? An Inside Housing survey, in association with Winckworth Sherwood, aimed to find out.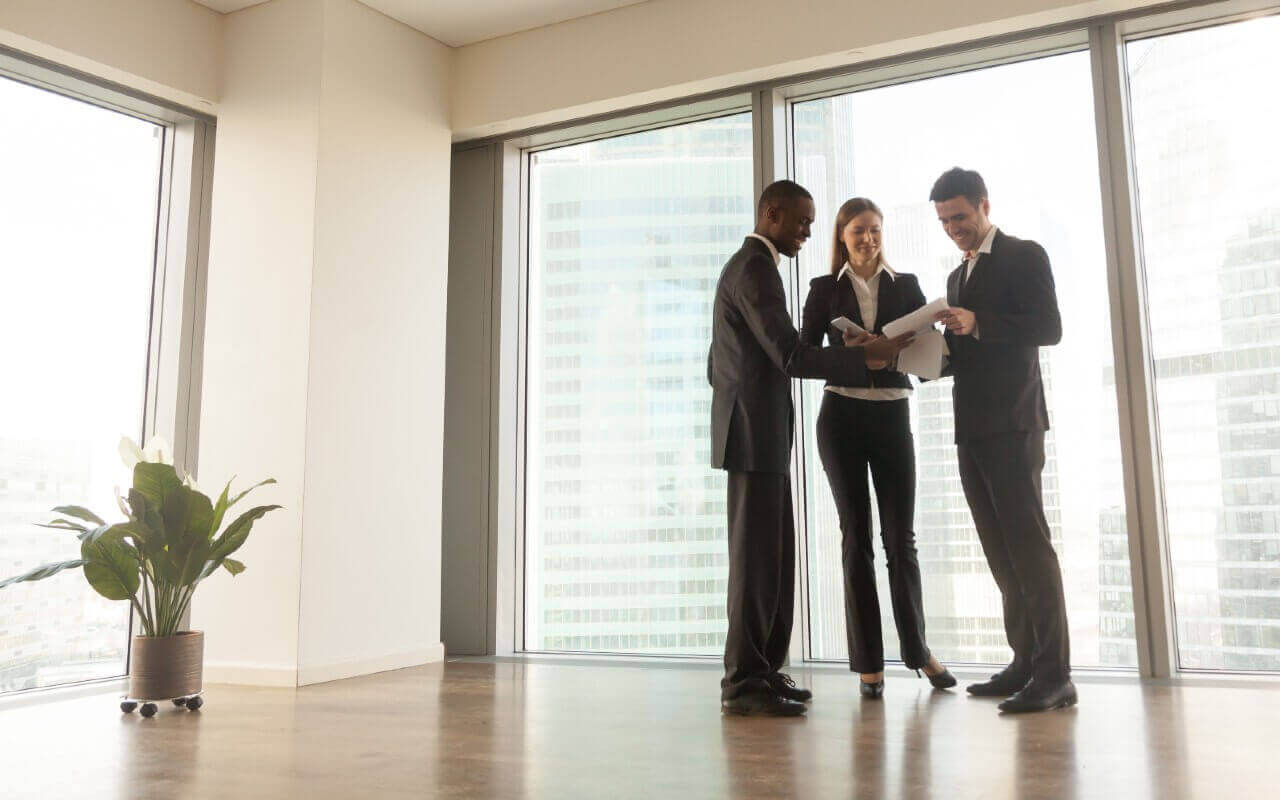 According to a recent survey carried out by Inside Housing, in partnership with Winckworth Sherwood, half of social housing sector organisations fully understand the importance of having an environmental, social and governance (ESG) strategy. Indeed, they say they understand the issue in a detailed way and already have an ESG strategy in place.
More worryingly, half admit that they only have some understanding, or limited understanding, or no understanding at all, and have yet to work out what ESG may mean for them.
Viewed one way, their dilemma is obvious. Developing and embedding successful ESG strategies within an organisation – and then measuring outcomes with ESG metrics – is a relatively new concept that is not always easily understood or implemented.
Nevertheless, it should be a priority because potential investors are increasingly keen to find out more about the ethics and ESG practices of the organisations they lend money to. And at some point, even housing associations that are not developing new properties will face costs associated with retrofit obligations and the move towards net zero.
Understanding ESG
Yet ESG is not just an investment matter, insists James Duncan, governance and regulatory partner at Winckworth Sherwood. It is about tenant accountability and ESG strategy, which is embedded in the housing association's objectives.
"This is an area where funders will be increasingly regulated, and if you can't [demonstrate your ESG credentials], you could run into problems," he says. "It seems that most responses to the survey came from larger organisations, which suggests that it's the smaller ones that are struggling to start their ESG journey. But they really need to."
A total of 97 organisations took part in the survey, of which 81% were housing associations, 13% were local authorities and 1% were ALMOs. The remainder were a mix of other organisations working in the sector. However, half did not answer specific questions about the areas of ESG they felt were most important, the metrics they had in place to measure their ESG performance, the barriers to ESG strategy adoption and – tellingly – when they expected to have an ESG strategy fully embedded within their organisation.
"Doesn't the fact that they skipped those questions tell us something?" says Louise Forrest, head of banking and finance at Winckworth Sherwood.
Of those who answered the question, 'What areas of ESG are most important to you?' nearly half (49%) weighted environmental, social and governance equally. However, of the 51 organisations that responded to the question, 'How confident are you that your organisation has robust metrics in place to measure its ESG performance?' only 18% answered 'to a large extent'.
This small number is troubling, notes Ms Forrest. "Banks or finance companies want to see incremental improvements [in an organisation's ESG performance]," she says. "But if you don't have [robust] data to set your base case, I don't see how you can [demonstrate that]. Getting that data can be a challenge; but, in this sector, organisations need to have systems in place so that they are able to acquire it… Inertia is not an option."
The vast majority of respondents 'strongly agreed' or 'somewhat agreed' that the finance their organisation raises either now or in the future should be ESG-linked. That makes perfect sense, says survey respondent Ben Colyer, corporate treasury director at Platform Housing Group, which manages 45,000 properties.
He says: "The sector's core purpose is centred around the social 'S'; its strong governance and regulation, which helps support the 'G'; and improving the energy efficiency of homes is a major part of the net zero carbon agenda, both in and outside of the sector [the 'E']. Everything about the sector supports an ESG-led funding strategy."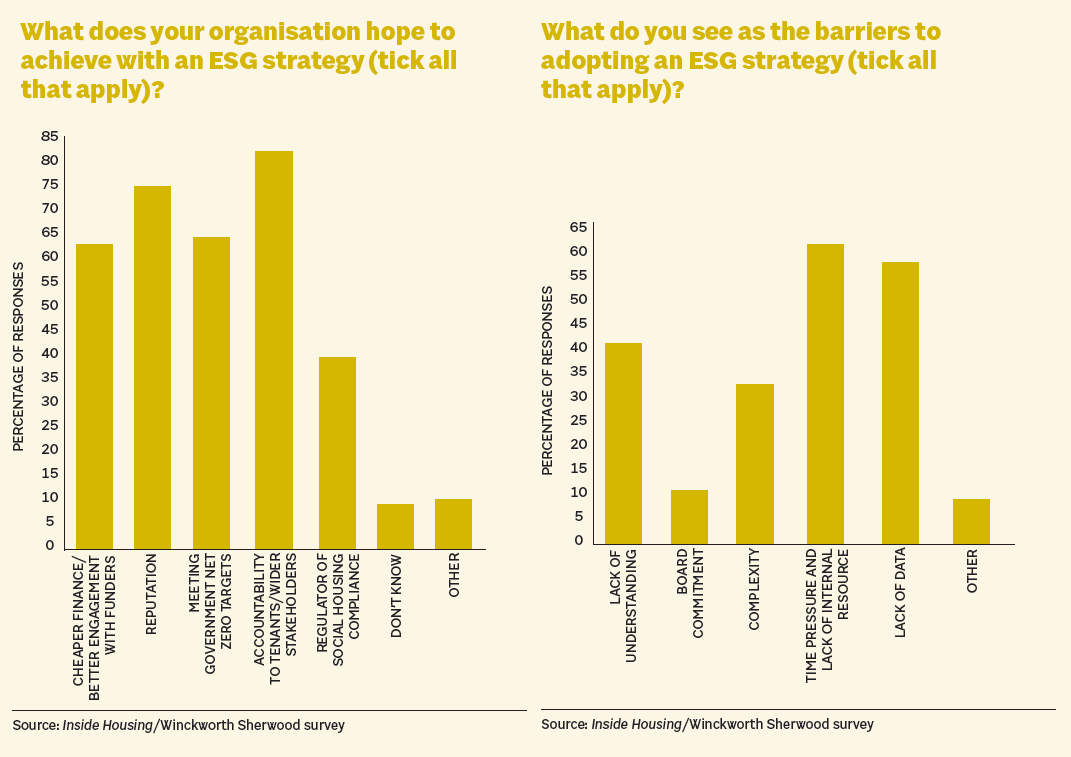 So what are the barriers that organisations undoubtedly have to overcome when adopting an ESG strategy? Those who answered this question cited 'time pressure and lack of internal resource', 'lack of data' and 'lack of understanding' as the biggest impediments to this.
Furthermore, only a minority of organisations had in-house team members in dedicated ESG roles (most staff were driving ESG strategies in addition to their normal roles), while a handful of organisations had no ESG experts or advisors in place.
Successful strategy
However, this does not necessarily mean they are unconcerned about creating and implementing a successful ESG strategy. Warren Bradley, director of legal and governance and company secretary at Golden Lane Housing, took part in the survey. He notes that Golden Lane has attracted high-calibre independent board members over the past several years, in particular colleagues with substantial experience in the finance sector.
The board has been instrumental in providing leadership and direction and steering the strategy of the organisation, including setting up a new treasury committee in 2021. "While we would not claim that any one colleague is an ESG expert, our collective experience in expressing to stakeholders the organisation's excellence in governance and its social impact reporting ensure that we are capable of rising to the challenge of a more rigid focus on ESG by investors," says Mr Bradley.
"To this extent, our board has become the first major supported housing specialist to adopt the Sustainability Reporting Standard for Social Housing (SRS). The standard will support the embedding of ESG responsibilities and external reporting."
In fact, the SRS – which was created to help housing providers report on their ESG performance in a way that is transparent, consistent and comparable – was shown to be an important tool for 57%. Just five companies that answered the question, 'Is your organisation using the Sustainability Reporting Standard for Social Housing?' said their organisations are developing their own ESG reporting frameworks.
A key question in the survey was, 'What does your organisation hope to achieve with an ESG strategy?' Most respondents cited accountability to tenants and wider stakeholders, cheaper finance and better engagement with funders, and meeting government net zero targets.
However, reputation was also a major consideration. "ESG is a topic that cuts across all areas of society," says Platform's Mr Colyer. "Those seen (or not) to be pulling their weight are likely to have a light shone on them given the level of public engagement."
This article originally appeared in Inside Housing.