Welcome to the WS Team MIPIM Cycle Ride 2018 blog. Andrew Bedford and James Mackay, partners in the firm's Real Estate Department, having completed MIPIM Ride 2017, are back for more punishment and will be taking part in the annual 1500 km charity ride from London to Cannes one more in March 2018, to help raise funds for Coram, the UK's oldest charity supporting vulnerable and disadvantaged children and young people.
Having learnt a lot about the ride (and themselves!) last March, they are determined to complete the challenge again for the good of the charity (and their waistlines….)
Our blog will be dedicated to their efforts as they train through the cold winter months in preparation for the arduous six day cycle, 1500 km from London, via Portsmouth, to the world famous surroundings of Cannes, the home of the annual MIPIM Property Conference. Check here for updates, photos and (possibly) even videos of their progress up to March.
To sponsor Andrew and James please click here.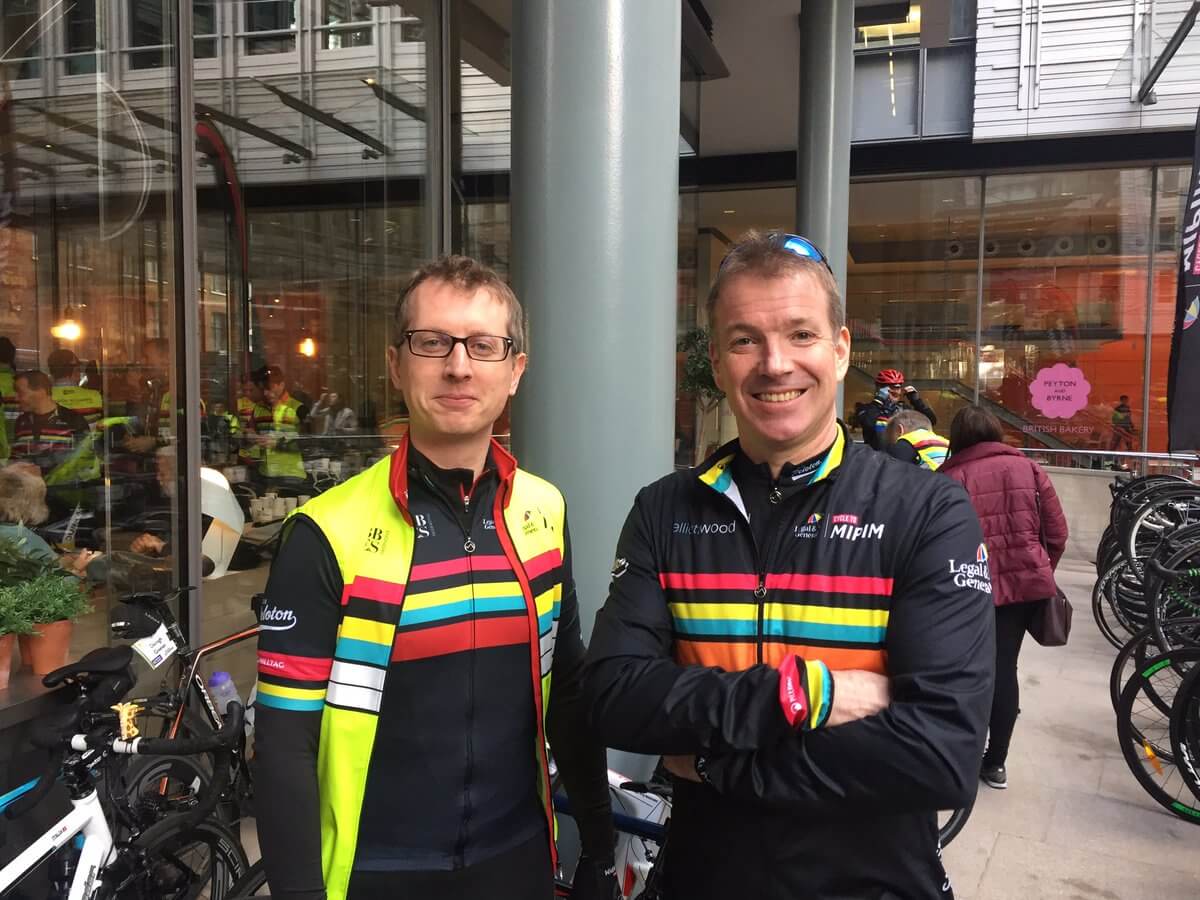 Saturday 16 December 2017
Early(ish!) solo training ride out to Box Hill and back on Saturday morning – just me, the bike and the frost!  Surviving a few slippery corners on the way out to Carshalton, where the duck pond was completely frozen, I headed towards Epsom Downs, following a well-worn route known to many cyclists. On this particular morning, I found myself very alone on the road. Despite being cold and frosty, the sky was clear and blue, and the sun was shining; and I could still feel all my fingers and toes. From Epsom Downs on to Reigate and from Reigate on to Dorking.
When in Dorking, got to take on Box Hill, which ordinarily holds no fear, but on this morning because of the frost, the trek up the hill was actually quite terrifying, as the cars passing on both sides kept sliding on the ice – only one near miss and I made it to the top for a cup of coffee in the deserted café. Quick photo at the view point for posterity and the then back home through Leatherhead, Ashtead, Oxshott, Esher, Surbiton and Kingston  – 49.3miles in total – if I'd known before I stopped, I would have cycled around the block a couple of times to get to 50!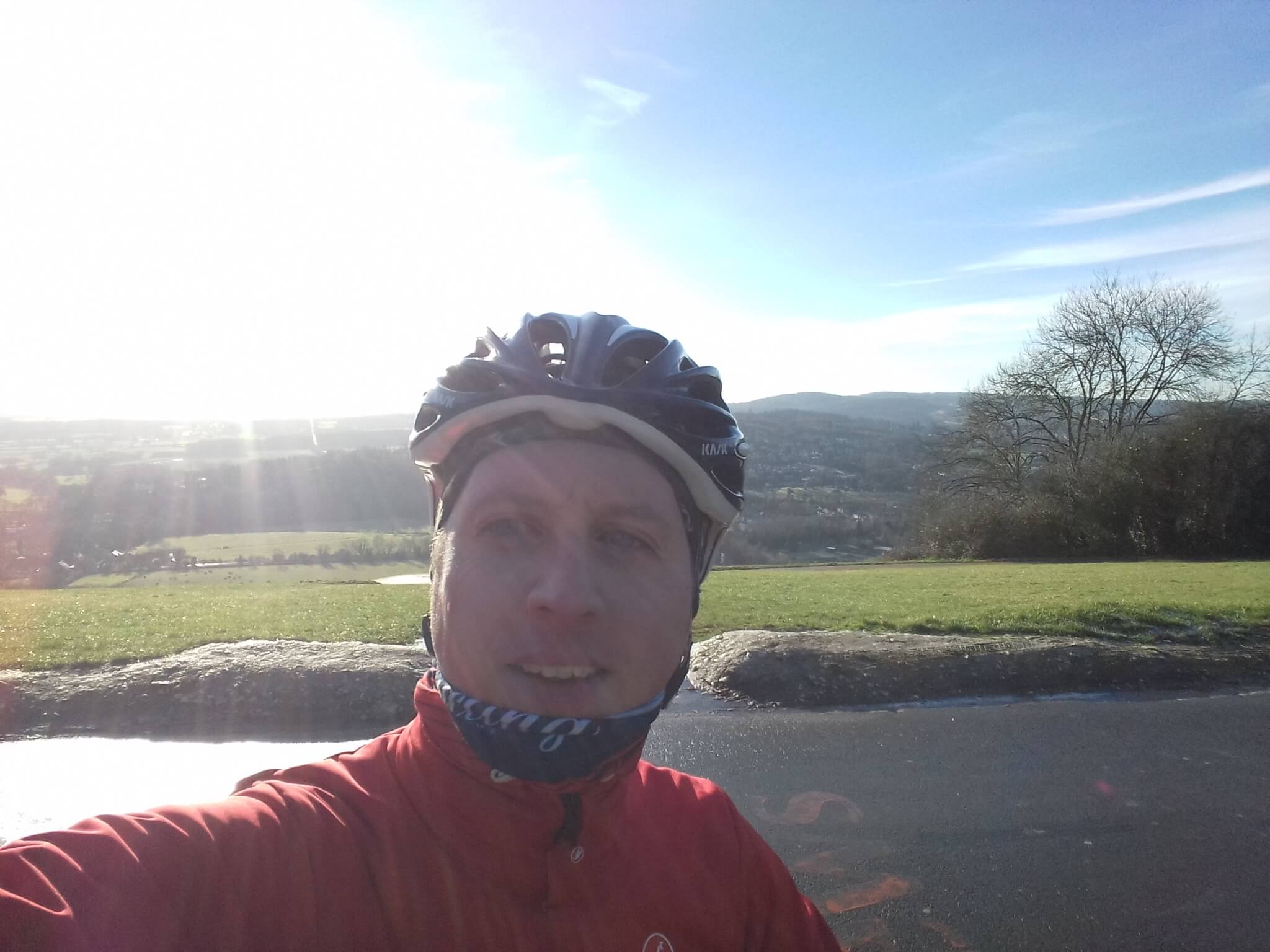 ---
Sunday 10 December 2017
Proposed training ride to from Box Hill to Brighton and back, with Andrew Bedford leading the charge. However, decent snowfall and icy, windy conditions put paid to the whole event. Better luck next weekend.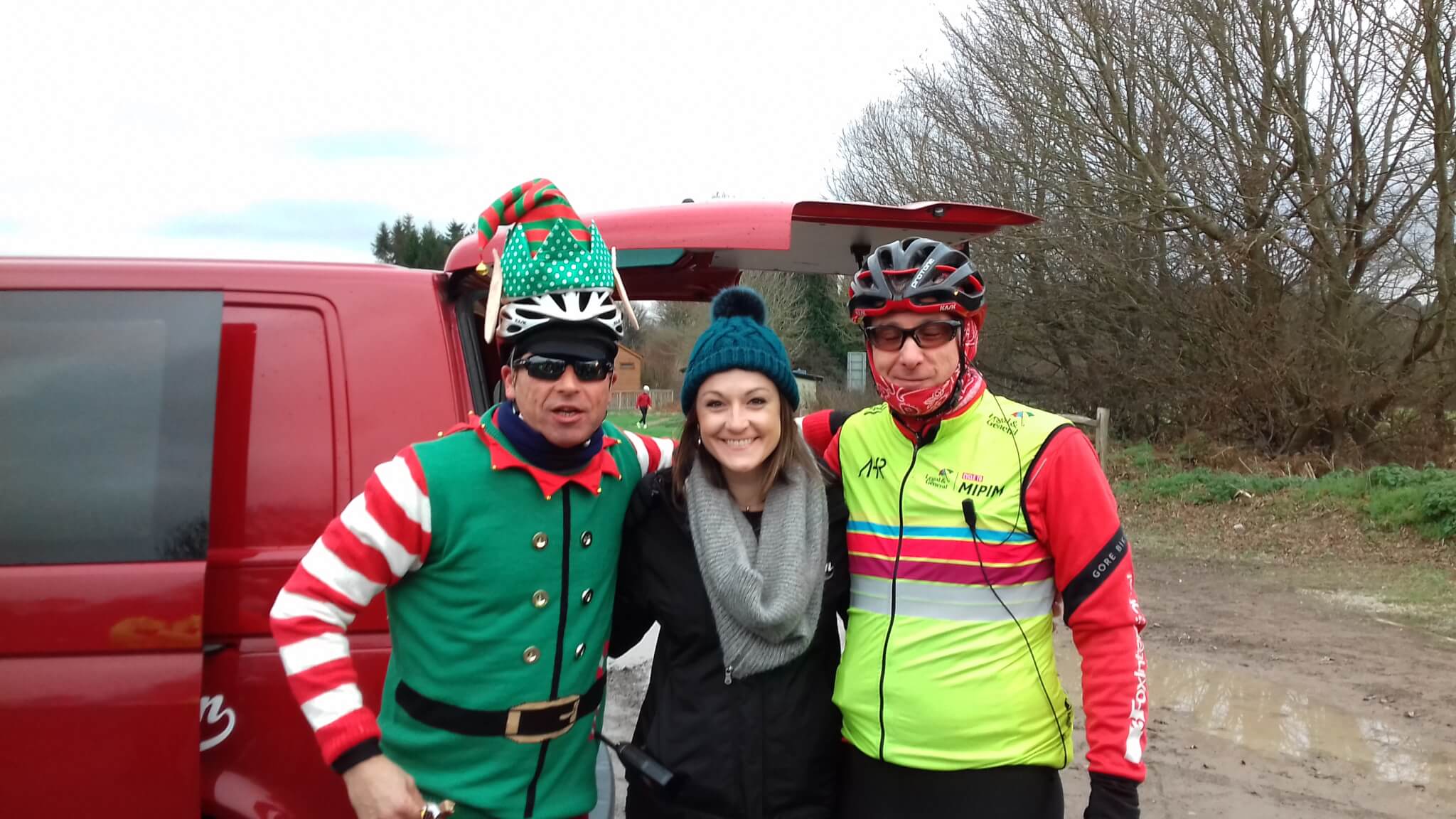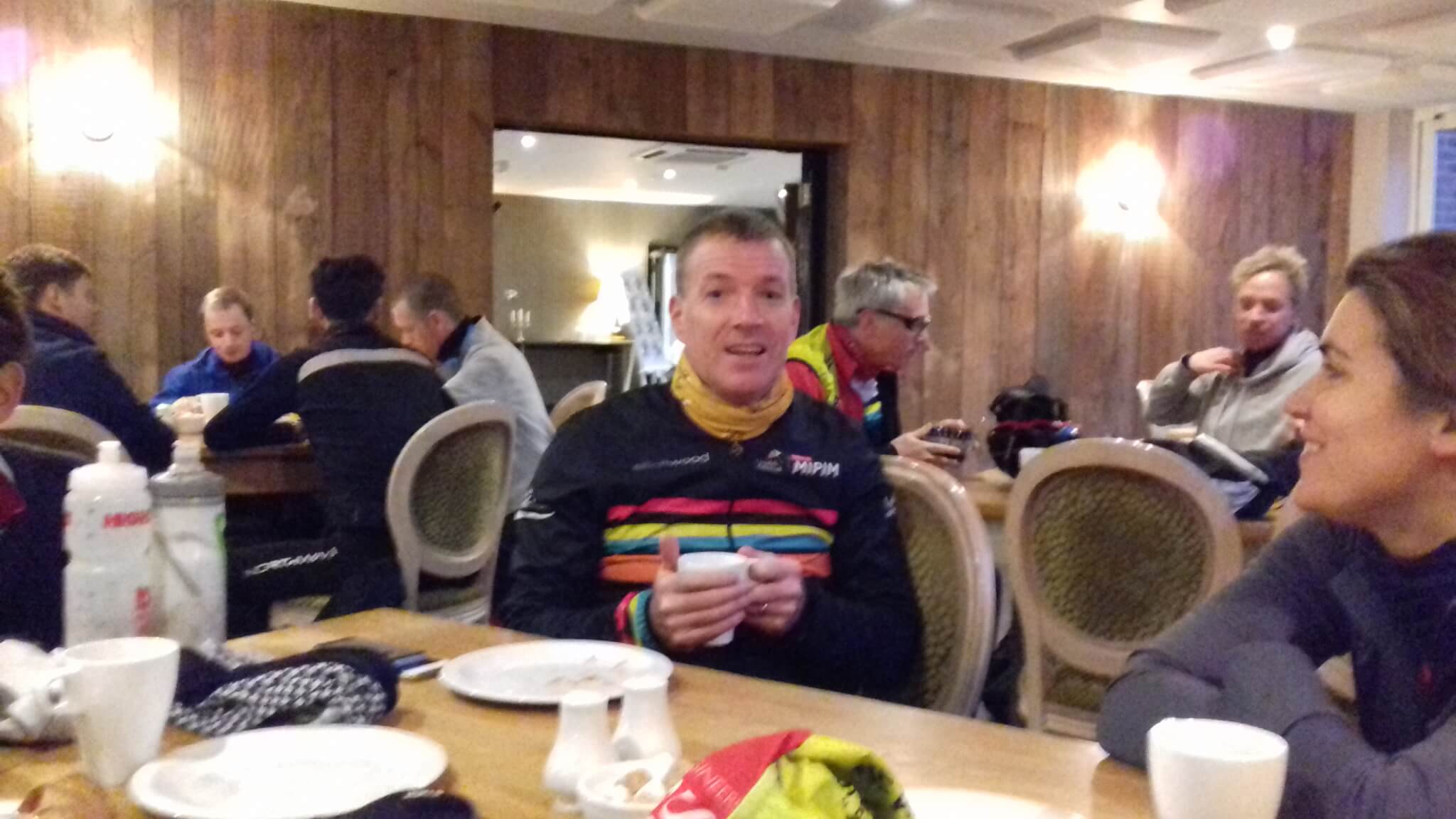 ---
Friday 1 December 2017
Training ride in the Ashdown Forest, Kent with Club Peloton.  Up at 5 am to get the 5.54am (!) train to Hever in Kent for a  50 mile canter around the Kent countryside.   The start of the day was not promising with severe cloud coverage and rain imminent.   However, a pre-cycle breakfast of bacon rolls and coffee at the meet point of the Hever Hotel with the 30 or so other riders were well received.  Andy Bedford clearly enjoyed his – see pic!   The ride was a slow-ish one, designed to suit all comers, but just what we needed to ease us back into the saddle; and through some lovely scenery.  One (almost) lung busting hill climb and a fast descent later, the clouds disbursed and the sun came out to make for a bright, if cold, day where the 50 miles disappeared beneath our wheels with relative ease.   We saw some old faces met some new ones, some themselves doing the MIPIM Ride in 2018 and others not.  The social highlight of the day was being in the company all day of one of Santa's elves – photo to prove it – you should have seen his ears flap in the wind!  He was clearly working on an alternative for when Santa's sleigh breaks down.  A successful ride for all involved and as ever, really good fun.  The only down side was that Southern Railways decided to cancel all trains running out of Hever Station back to London – for those of us without a car, it was another 15 mile cycle to the nearest train station where trains were running – still, all good exercise!