About: Advising Partnerships
We have extensive experience and a proven track record of advising partnerships and LLPs on both contentious and non-contentious matters. We regularly support our clients with internal partnership issues and disputes. Separately, we advise on structural issues and drafting and implementing new or updated partnership/LLP terms.
Our team are recognised as leading practitioners in this area and we are ranked in the legal directories, Chambers & Partners and Legal 500. We regularly advise law firms, accountancy practices, patent attorneys, surveyors and architects.
A further core focus of our practice is advising firms from the financial services sector including private equity and hedge funds, institutional funds and real estate funds, trading platforms and brokers. Our financial services clients benefit from our unique ability to provide a comprehensive service, covering specialist regulatory advice as well as corporate advice on carried interest and related remuneration structures.
Our approach to acting for Partnerships
We will take the time to get to know your firm, its culture and its commercial drivers and dynamics. We provide commercial and practical advice and will recommend the best tactical approach for you, taking account of your key objectives. Our clients include individual partners/LLP members as well as firms and partnerships which we feel gives us insight and a particular strategic advantage when negotiating terms and determining tactics to secure the best outcome for our clients.
Our areas of Partnership expertise
We regularly advise on the following areas:
setting up or joining a partnership
the rights and obligations of partners
conduct issues and internal investigations (including bullying and sexual harassment)
partner exits and expulsions
discrimination and whistleblowing claims
profit sharing and de-equitisation
mergers, acquisitions, disposals and demergers
regulatory advice, including FCA compliance and internal audit
partner restrictive covenants and top level team moves
mediation and arbitration proceedings
We offer in-house training to our partnership and LLP clients including in relation to behaviours in light of the #MeToo focus in many sectors at present. We also produce regular briefings to ensure that our clients are kept up-to-date of trends and legal developments.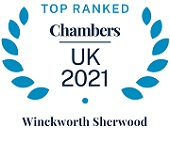 "Extensive knowledge and experience"
Chambers, 2019
The team "is particularly active in negotiating partner departures and restrictive covenant issues, acting for both partnerships as well as individual partners".
Legal 500, 2017
"I appreciate their candid approach to explaining issues and finding solutions"
Chambers, 2019
'Exceptional market knowledge and experience in negotiating the best outcome for the client. Good profile in the market. Very good communication and case management.'
Legal 500 2021
"They have given good advice and are always prompt to respond"
Chambers, 2019
Winckworth Sherwood "is particularly well-known for its contentious partnership offering, in addition to advising on regulatory and investigatory issues affecting residential development and financial services partnerships."
Legal 500, 2017
"A force to be reckoned with"
Legal 500, 2019
"Expertise in their respective areas, second to none. Very much work as a team."
Legal 500 2021
"An almost telepathic understanding of issues that commonly arise"
Legal 500, 2019