About: Partnership / Professional Practices
We have extensive experience and a proven track record of advising LLPs and partnerships as well as individual LLP members/partners on both contentious and non-contentious matters.
We advise individuals and firms from the legal, accountancy, patent attorney, surveying and architecture sectors as well as the financial services sector, including private equity and hedge funds, institutional funds and real estate funds, trading platforms and brokers. Our financial services clients benefit from our unique ability to provide a comprehensive service, covering specialist regulatory advice as well as corporate advice on carried interest and related remuneration structures.
Advising both individual LLP members/partners as well as firms and partnerships gives us a particular insight and strategic advantage when negotiating terms and determining tactics to secure the best outcome for our clients.
Our team are recognised as leading practitioners in this area and we are ranked in the legal directories, Chambers & Partners and Legal 500.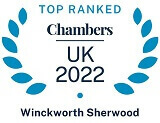 We are delighted to share our new Partnership Brochure with you to introduce you to our team of Partnership Law specialists, advising professional practices and financial services firms and individual partners on their contentious and non-contentious partnership law needs. We would be pleased to assist.