About Simon
Simon acts on a wide range of issues for local authorities and housing associations with the emphasis upon housing, externalisation, charitable trusts, regeneration, joint ventures and public procurement. Simon has had a distinguished career in London local government, having been an elected member of Bromley Council for over 20 years. He served as Chairman of the London Boroughs Association Housing and Social Services Committee and in that capacity advised housing ministers on housing issues.
Recent Experience
Has advised and coordinated large scale voluntary transfers of housing stock at Maidstone, West Wiltshire, Walsall, Coventry, St Edmundsbury, Gedling and Tower Hamlets
Has undertaken feasibility studies as to management options for local authority leisure and cultural services at Wigan, Chesterfield, Peterborough, Kings Lynn & West Norfolk, Swindon, Bournemouth and Buckinghamshire
Advised extensively on regeneration schemes at Slough, Waverley, Enfield and Oxford
Has provided full range of advice to housing associations such as CDS Co-operative society, Havebury Housing Partnership and Selwood Housing Society including commercial contracts, regulatory, EU procurement and governance
Has implemented externalisation to newly created or existing charitable trusts at Peterborough, Gloucester, Lewes and Vale of White Horse
Simon was appointed CBE in 1991 for his London housing and local government work.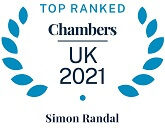 Career Experience
2010 to present: Consultant, Winckworth Sherwood
2009 to 2010: Consultant, Lawrence Graham
1970 to 2009: Partner, Lawrence Graham
1967 to 1970: Assistant Solicitor, Lawrence Graham
1962 to 1967: Trainee, Lawrence Graham