About Jo
Partner and head of Employment, Jo specialises in all aspects of contentious and non-contentious employment and partnership law. She has a wealth of experience in providing strategic, pragmatic and commercial advice to a wide range of UK businesses, partnerships and individuals. In Chambers UK 2020, she has been individually ranked in Band One in the 'Partnerships – Contentious' category and sources say that "her knowledge of the law is phenomenal."
She has also been described in Chambers 2020 as "one of the hardest-working lawyers on the planet," and  "she's a master of her field and imbues complete confidence in her ability to provide the best advice and get the job done." In Legal 500 2020 sources say: "Jo Keddie knocks it out of the park – she is fearless and strong, works incredibly hard and produces results" and is described as having  'the rare combination of a first class mind and really good instincts.'
Jo focuses on providing solutions driven and incisive advice to her clients within clear timescales. She maintains a focussed and realistic approach to her clients' objectives and has a strong reputation for achieving the best outcome for clients through perseverance and skill in a broad range of complex and contentious workplace issues
She has substantial experience of representing clients in the High Court and Employment Tribunals where she works closely with clients to devise litigation strategies to meet their aims and objectives. She also has significant expertise in arbitration processes including expedited arbitrations where urgent cases demand swift decisions.
Jo acts for a number of corporate employers and professional partnerships covering all of their employment and partnership needs. She regularly advises on boardroom disputes; restructuring and redundancies; performance, discrimination and departure issues; and employment policies and procedures.
She also has considerable experience in acting for executives and partners in financial institutions, professional partnerships, private equity funds and insurance firms with a particular focus on handling high value discrimination claims; senior executive and partner severances; directors service agreements; team departures; whistleblowing; bonus claims; restrictive covenants; wrongful and unfair dismissal; and changing terms and conditions of employment.
Jo has also led regulatory bodies, partnerships and other corporate and education clients through complex external and internal investigations involving serious issues (often of public interest) that have required extremely sensitive, pragmatic and compliant advice as well as focussed outcomes if disciplinary and regulatory sanctions are likely to be imposed.
Recent Experience
Acting for several FTSE 100  C-Suite clients in respect of their high value (often seven figures) and often complex departure terms.
Acting for a number of City law firms, financial institutions and SMEs  in successfully defending claims for unfair dismissal, whistle-blowing, race and religious discrimination, sex discrimination/harassment and age discrimination.
Acting in high value team and individual moves in the professional services, financial and pharmaceutical sectors (often involving High Court proceedings or arbitral proceedings).
Representing individual Partners in general partnerships and limited liability partnerships in relation to discrimination, whistle blowing and bad faith situations often involving the  successful negotiation of  high value and dignified departure terms.
Acting for regulatory bodies in relation to investigations, internal audit and governance matters.
Professional Memberships
Law Society of England and Wales
Employment Lawyers' Association
Association of Partnership Practitioners
London Solicitors Litigation Association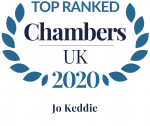 Career Experience
2010 to present: Partner, Winckworth Sherwood
1995 to 2010: Partner, Dawsons
1990 to 1995: Solicitor, Dawsons
1988 to 1990: Trainee, Dawsons
"She must be one of the hardest-working lawyers on the planet…She's a master of her field and imbues complete confidence in her ability to provide the best advice and get the job done."
Chambers & Partners 2020
Jo is acknowledged by clients as a committed and responsive advocate, one who "sees both sides of a dispute."
Chambers and Partners UK
"With the amount of confidence she commands,
she's a force to be reckoned with."
Chambers and Partners UK
"Jo Keddie knocks it out of the park – she is fearless and strong, works incredibly hard and produces results."
Legal 500 2020
She is described as "being assertive and robust" while remaining sensitive to her clients' concerns, and is recognised as an "extremely tactically good lawyer with great client-handling skill."
Chambers and Partners UK
Sources say Jo is "authoritative, genuinely empathetic, very assertive when required, clever and clearly hugely experienced."
Chambers and Partners UK, 2018
"Jo Keddie [has] the rare combination of a first class mind and really good instincts."
Legal 500 2020
"Sharp and marshals her team superbly"
Chambers, 2019
"She has a pragmatic approach and provides
clear and concise explanations"
Chambers 2019
"Jo Keddie has a wealth of experience and knowledge and gives you as a client the confidence that is needed, as well the knowledge that Jo is working for you as an individual. She is pragmatic and flexible in her approach."
Legal 500 2020
"Excellent subject matter expertise and
excellent negotiation skills and timing"
Chambers, 2019
"Jo Keddie is analytical and pragmatic – I can absolutely recommend Jo and her team to any company who has difficult choices to make with regard to restructuring and HR options and strategies. Every CEO or senior manager welcomes clear and well thought advice and Jo provides that."
Legal 500 2020
"Totally on the ball and able to apply the law
in a practical and commercial way"
Chambers, 2019
"I have found Jo to be outstanding. Her vast experience in this area leads her to have an almost telepathic understanding of the sort of issues that commonly arise and how they might be best resolved"
Chambers, 2019