About Izabella
Izabella is a planning and commercial property solicitor with a wide range of experience in planning and development work.
She has advised private and public sector clients on strategic planning and compulsory purchase issues, land acquisition and disposal.
Through her recent work in local government, she has gained experience in public procurement matters, statutory powers and local governance issues.
Recent Experience
Advising on planning, governance and procurement issues in connection with Enfield Borough Council's flagship regeneration project at Meridian Water
Leading on a number of high profile regeneration projects, including compulsory purchase orders and land acquisition
Advising on a multi-application housing redevelopment at North Circular Road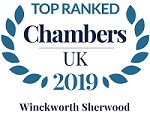 Career Experience
2016 to present: Associate, Winckworth Sherwood
2011 to 2016: Senior Solicitor, Enfield Borough Council
2007 to 2009: Associate, Reed Smith LLP
2003 to 2007: Solicitor, Mayer Brown Rowe & Maw LLP