About Hazel
Hazel has almost 25 years' experience in Parliamentary and infrastructure planning work, particularly in the authorisation of railway, tram and harbour schemes. This involves both drafting the relevant legislation to secure statutory powers and advising on all aspects of the consents process, including on consultation, planning aspects and compulsory purchase and compensation. A particular focus of Hazel's work is advising on Environmental Impact Assessment and Conservation of Habitats and Species issues for major projects. Other aspects of Hazel's practice include advice to public bodies in relation to Equality Act issues and drafting harbour byelaws.
She regularly negotiates undertakings, agreements and protective provisions to address objector concerns and has also acted for a number of statutory undertakers in opposition to infrastructure schemes which affect their interests and equipment.
Hazel has considerable experience in managing client interests at public inquiries and hearings for contested schemes and advising on the scope and content of the case and required evidence.
Relevant Experience
High Speed 2 hybrid Bills including advising on consultation, environmental statements, habitats issues and Equality Act implications
Acting on the promotion of and implementation of the Crossrail Act 2008, including negotiation and interpretation of complex agreements, advice on compulsory acquisition and safeguarding powers
Promoting and advising on numerous Transport and Works Act Orders for railway and tram operators, and for energy providers, including the Network Rail (Werrington Grade Separation) Order and the Network Rail (Ordsall Chord) Order
Advising promoters of and objectors to Development Consent Orders for nationally significant infrastructure projects including Lower Thames Crossing, Thurrock Flexible Regeneration Scheme, A1 Birtley to Coalhouse Junction widening and Ipswich Chord
Securing powers for statutory harbour authorities through Harbour Revision Orders, including for Associated British Ports and Port of London Authority and drafting the Thames Byelaws 2012
Acting for Canal and River Trust, Environment Agency, National Grid and other statutory undertakers in objecting to and securing arrangements to protect their interests from proposed infrastructure schemes
Professional Memberships
Law Society of England and Wales
UKELA and NIPA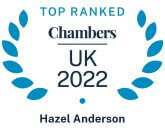 Career Experience
2013 to present: Partner, Winckworth Sherwood
2000 to 2013: Assistant Solicitor, Winckworth Sherwood
1998 to 2000: Trainee Solicitor, Winckworth Sherwood
1995 to 1996: Conference Manager, Institution of Mining and Metallurgy
1988 to 1995: Conference Executive, Institution of Mechanical Engineers
'Hazel Anderson is always sure footed and utterly reliable in her advice, an excellent environmental lawyer.'
Legal 500 2022
Hazel is noted for her "calmness in situations of crisis and excellent manners."
Legal 500, 2017
"Excellent at environmental aspects and never leaves anything unexamined"
Chambers, 2019
"Really good to work with"
Chambers, 2019